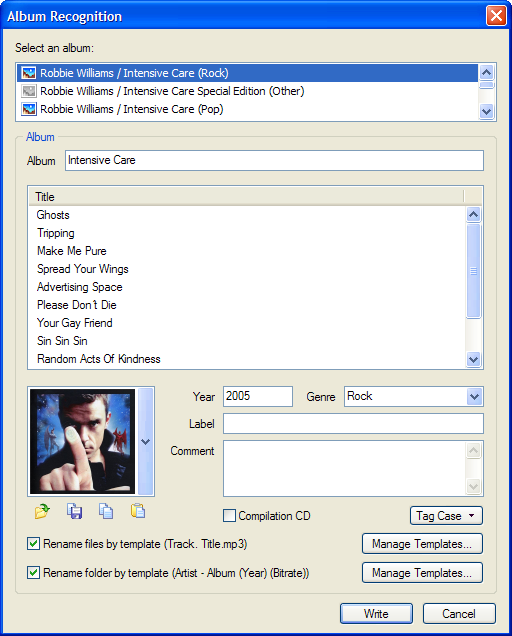 Album Recognition
Use Album Information Search to add songs with the most commonly used tags without manual typing. Album Title, Artist Name, Song Title, and other tags including album cover art can be found through TagTuner's search server.
The automatic renaming feature in the Album Information Search is the ultimate time saver and enables you to create meaningful file and folder names. Simply tell TagTuner what tags to use to build the file names. Also, you can create your own naming rules for casual albums, compilation CD's and album folders.
For example, you can setup the rules to have Artist Name, Album Title, Year and Bit Rate (Aglaia - Mondi Sensibili (2006) (320)) as the album folder and name your tracks using Track Number and Song Name (01 - Mercurius Volatile.mp3).

Tag Editor
TagTuner's tightly integrated industry-leading Tag Editor supports more than 20 general tags and is designed to provide you with uniform tag editing for several major audio file formats. No matter in what file format your songs are encoded, TagTuner provides the same uniform Tag Editing and frees you from extra work.
When you are ready to edit - select the files and Tag Editor collects all tag values from the selected files in the combo boxes. This action tags puts the right tag value on one song or many. Album cover artwork from an external application (like an album page opened in a browser) is a simple drag and drop operation.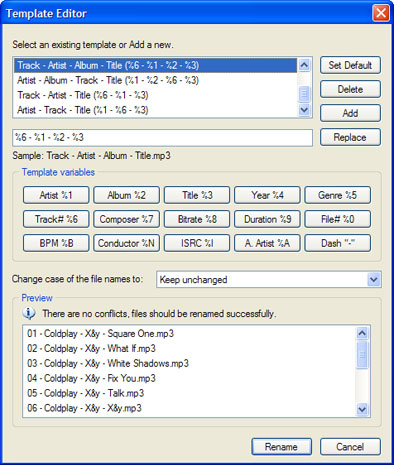 Template Editor
Music tags are seldom done in a consistent manner by during their creation. Each rip program produces different tag results. The Template Editor lets you create rules to organize the your music library the way you want the tags applied. Choose the tags you want to see in a file name and apply the appropriate template and preview the results. You can quickly create a new template and preview the results. Save the template when the results are what you want.
Set your favorite naming rules for casual albums files, compilations and album folders and automatically apply the selected template at the touch of a button. Quick, easy predictable results.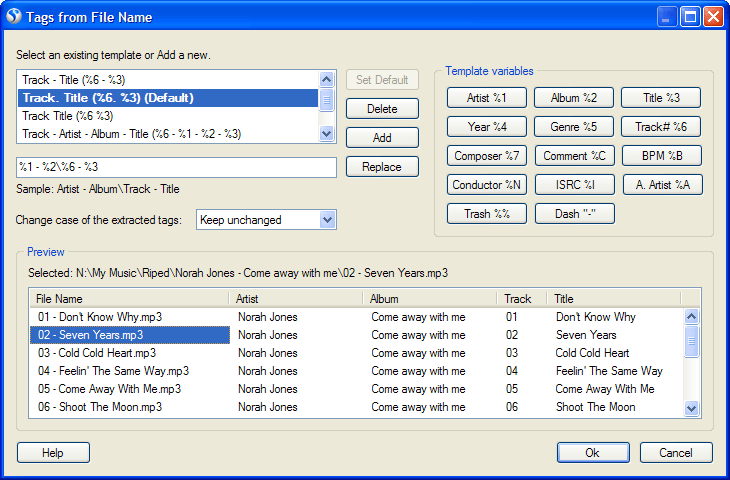 Tag Extractor
Turn each and every piece of music file name into useful information. Make a new rule or choose from one previously saved to tell TagTuner how it should extract the tags. Preview the results instantly and apply. You can select the tags from virtually any level of parent folder names. Use one slash ("\") to make TagTuner extract tags from the current folder name and double slash ("\\") to move up one folder level.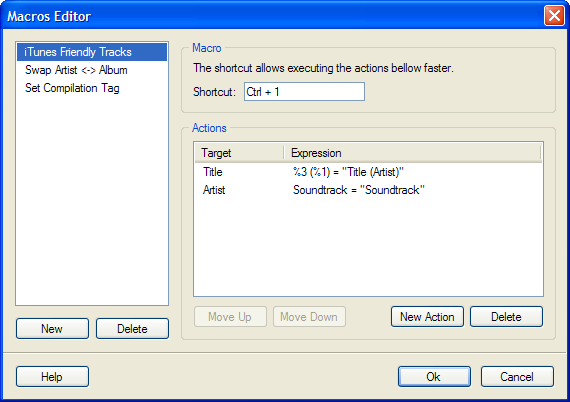 Macros Editor
Using Macros for assigning shortcut keys to most commonly used tag editing commands. You can gather up any number of commands into one Macro. Set simple tag values, like adding comments or setting a Compilation CD flag on, swap tags, and collect a certain tag from other tags using very simple logic: A=B+C
Mass Replace

With Mass Replace you can fix your entire collection tags easily. Simply choose a folder you want to process, select the tags and press Replace button. TagTuner will fix the tags for you.

Swapped Tags

When you notice that some of the tags are swapped – no need to fix it manually. Click Tools then choose Swap Tags from the menu to automate it for virtually any number of the selected files.