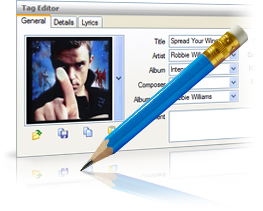 Edit song tags
Make your digital music collection an example of perfect organization. Edit more than 20 basic tags at a time, fill your music files with cover artworks and lyrics. It's always easy, no matter whether you have one file or thousands, the Tag Editor is always close at hand. No extra dialogs or manual typing. You can copy & paste all tags or only specific ones. When you select several songs, Tag Editor collects all tag values in combo boxes, allowing you to spread the right tag value from one song to many others.
Sometimes you might make a few edits and decide you don't like them. TagTuner is the first music tag editor that offers you the undo feature. Simply choose Undo from the Edit menu and rollback the recent changes.
Since your music collection is constantly growing, well structured files and songs filled with complete information are the best way to find what you need in an instant.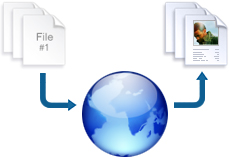 Find album information online
Save your time with online album information search. Save even more time using industry leading level of automation - online information lookup, automatic album files and folder renaming along with tags and file names case transformation. Just imagine how a plain boring folder with meaningless file names is suddenly filled with tags, album covers, and the files get proper names that you prefer, and all this at the touch of a button.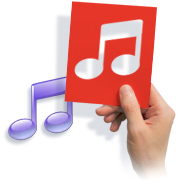 Standardize file names
Use song tags to build meaningful file names for your music collection. Make your own file naming rules for casual albums, compilation CDs and album folders. Then apply them with one click, or use them bundled with Online Album Information Search.
Making file naming rules is easy with the Template Editor real-time preview. When you are creating a rule, you'll be able to see how the file name will look once it's changed.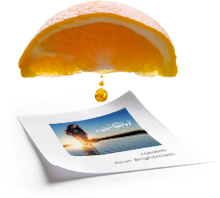 Extract tags from the file names
Every portion of information can be used to tag your music, including file names. TagTuner comes with easy-to-use crisp logic tag extraction tool. Left to Right – that is everything you need to know to use it.
Just tell TagTuner how it should interpret the parts of the selected file names. Which part is a tag you want to extract and what you want to ignore. You also can mine useful information from the folder name, or even jump up to virtually any parent folder to get the tags.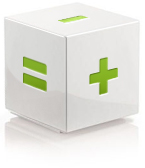 Make complex tag editing easier
Use Macros for assigning shortcut keys to most commonly used tag editing commands. You can gather up any number of commands into one Macro. Set simple tag values, like adding comments or setting a Compilation CD flag on, swap tags, and collect a certain tag from other tags using a very simple logic: A=B+C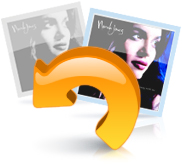 Rollback any actions
When making your music collection look perfect you go through certain edits, but sometimes you might think that the last edits were not necessary or you just pushed the wrong button, and that's where the Undo feature comes in handy. You can roll back your last changes rather than having to retype the needed information.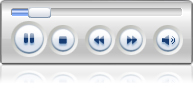 Play while tagging
Use build-in player or third parties and have some extra comfort. The build-in player enables you to play all of the supported audio formats while tagging. Explore HotTunes with which you can set the global shortcut keys for your most favorite playlists. Choose playlists that fit your current mood with one keystroke.
Prefer award wining Winamp player? TagTuner is the only music tag editor that intellectually controls Winamp player. When you tag a file that is currently played in Winamp, TagTuner will pause and then resume the playback. No file sharing violation errors anymore and your active Winamp playlist will be updated every time you rename files in TagTuner.